Check Engine Light with codes P0070, P111F, P0071
Check Engine Light with codes P0070, P111F, P0071
08-24-2012 at 10:01 AM - Check Engine Light with codes P0070, P111F, P0071
(This post was last modified: 08-24-2012 10:51 AM by MRBMW85.)
MRBMW85
New Member


Posts: 2
Joined: Aug 2012
Location: Massachusetts
My Ride: 2005 BMW 325xi
Friend: Add as Buddy
I have a 2005 BMW 325xi
My check engine light was on so I had Advanced Auto Parts read the codes and these 3 came up P0070, P111F, P0071.
I was told that it was the Ambient Air Temperature because it was reading -40..... so I ordered and installed a new one and that fixed that problem. I reset the codes after I installed the new Ambient Air Temp Sensor.....so thinking that was the only problem, I disconnected my battery for the night, reconnected it in the morning, drove it around for the next couple of weeks and the check engine light was still on....mind you that I'm 2 months past the due date for an inspection so to save myself the trouble, I went and got it inspected and of course I knew it failed because of the check engine light being on. I explained that I fixed the problem (so i thought) but the guy said to get it checked out anyway...his codes also read P0070, P0071 and P111F.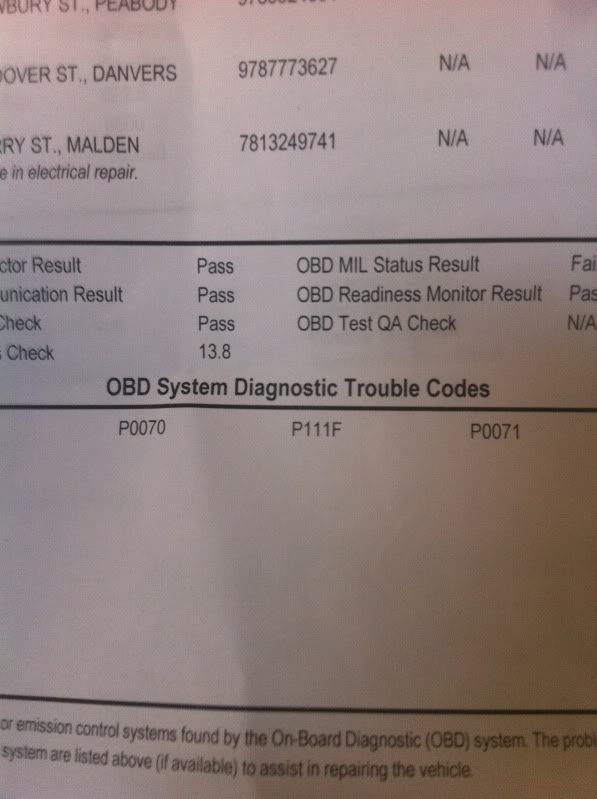 WHAT DO I DO NOW.... I thought the Ambient Air Temperature was the only problem?
All feedback is appreciated, thanks
08-24-2012 at 12:07 PM - RE: New to Forum
Omar Marji
Member


Posts: 63
Joined: Feb 2012
Location:
My Ride: E36 Stroker
Friend: Add as Buddy
im pretty sure these cars have the air temp sensor built into the maf...try changing your MAF sensor with a new one and that will prob get rid of the codes..or for a cheaper route clean it with MAF cleaner from autozone
---
08-25-2012 at 08:38 PM - RE: New to Forum
MRBMW85
New Member


Posts: 2
Joined: Aug 2012
Location: Massachusetts
My Ride: 2005 BMW 325xi
Friend: Add as Buddy
User(s) browsing this thread: 1 Guest(s)