FS: 1998 Active Autowerke Techno Violet 470hp BMW M3 Hardtop Convertible 42k miles CA
FS: 1998 Active Autowerke Techno Violet 470hp BMW M3 Hardtop Convertible 42k miles CA
11-16-2013 at 12:14 AM - FS: 1998 Active Autowerke Techno Violet 470hp BMW M3 Hardtop Convertible 42k miles CA
crknapp
New Member


Posts: 1
Joined: Nov 2013
Location: Monterey, Ca
My Ride: 1998 M3 Vert
Friend: Add as Buddy
For sale is a truly one of a kind BMW M3. It is 1 of 53 convertibles with this color combination, and the only one to receive a complete Stage 2 package by Active Autowerke.
This car started life as a stock 1998 BMW M3, but was completely decked out by Active Autowerke to the tune of over $35,000 ($23,650.95 in 1999, $6,851.14 in 2006, and $5,196.33 in 2012). All of the work was done by Active at Active, and it is fully documented. In fact, I have every piece of documentation for this car since the day it rolled of the lot, and all of the work has been done by either Active, BMW or a certified BMW mechanic.
This car pushes a conservative 470HP, and does so with ease. It has never been abused or raced. I purchased the car from the original owner who was an elder gentleman who kept it as a Sunday driver. Which is represented by the less than 42,000 original miles on the odometer.
The beauty of this car is that it drives like stock, albeit with a lot more of a kick. It drives and handles exactly like a BMW M3 should...not like the disappointing 240HP stock M3s that leave you wanting more.
The car has received all of its required service and it remains in near perfect operating condition. The tires have about 5,000 miles on them, the rotors and the calipers have a ton of meat on them. This car needs nothing, but a new driver.
Here is a list of some of the major mods:
AA Turbo Stage 2/Gen 2 Package at 12 psi boost
AA Stainless Exhaust
AA Stage II Intercooler
AA Front Strut Tower Brace
Koni Adjustable Shocks and Strut Kit with RD Lower Sports Spring Kit
Stand-alone F.I. System
High performance Clutch
AA Aluminum Flywheel
Chrome Air Grill
Brembo 2 Piece Racing Brake Kit
Eternal Wastegate
HKS Turbo Timer
HKS Variable Boost Controller
AA "X" Brace lower front Chassis
RD Swaybar Kit
Dual Gauge A Piller with Boost and Air/Fuel
OBD II upgrade
Aluminum Radiator
AA Diff Support Bracket Kit
I would rate the interior an exterior at a conservative 8 out of 10. The matching hardtop does not leak, and the soft top has almost never been used.
I can provide copies of the documentation and any additional pictures by request.
The car also comes with an additional set of staggered wheels and tires. The wheels are not in the best of shape, but all four of the Perrelli PZERO tires have less than 1000 miles on them.
The KBB private party value of the car is:
Excellent - $13,286
Very Good - $12,961
Good - $12,761
The Truecar Private Party Sale Price is
Low Range: $13,802
Market Average Sale Price: $12,445
High Range: $14,235
Recommended List Price: $16,121
If you include the cost of the car, there is almost $90,000 in this car (all of which is documented).
The car and I are in Monterey, Ca.
I am asking $19,250.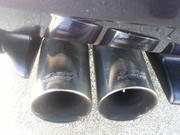 User(s) browsing this thread: 1 Guest(s)